8 Belgian Dishes that Every Food Lover Must Taste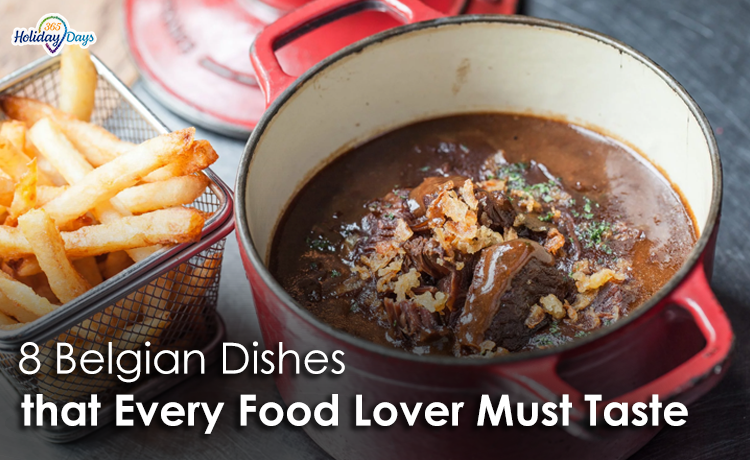 Europe has always been the centre of global culture. Whether it is food or fashion, they're the hubs of quality and taste. Belgium is one of the most influential countries in Europe that has left its mark on international cuisine. Belgian chocolates and sweets are amongst the finest delicacies in the world.
If you're planning to visit Belgium or you have the 'hungerlust', Belgian cuisine must be on your to-do list. Let's take a look at 8 dishes in this cuisine that'd stimulate your taste buds to another level.
1. Belgian Waffle
This is one of the trademark dishes of Belgium which is found on almost every restaurant's menu across the world. However, to taste the most authentic waffle, you must try it in Belgium itself. They're different from American Waffles, because of deeper groves, which helps them to contain more chocolate/topping/syrup. If you have a sweet tooth, then Belgian Waffle will fulfill every expectation of yours.
2. Frites 
Frites are very similar to conventional fries. However, they are made from cherry-picked soft potatoes. These frites are fried twice. They are first fried at lower temperatures to cook the inner sides of potatoes. This is followed by dipping them in hot oil so that it embarks crispness into them. This makes Belgian Frites very unique and next to perfect. Frites are so common in Belgium that many people term them as the unofficial national dish.
3. Waterzooi
Waterzooi is a stew made from fish, eggs, and butter. This is a very old dish with roots in the 16th century. It is said that Waterzooi was invented in Ghent and has undergone several changes since then. Today, waterzooi is made with chicken and is often simmered with beer. Belgians prefer having stew on rainy and chilly days as their comfort food. 
4. Shrimp Croquettes
This dish has a very 'European' influence in its taste. Grey shrimps are found all over Belgium (especially Brussels). They are eaten in the form of Croquettes by covering them generally in béchamel sauce. This is followed by wrapping them inside bread and frying. Grey shrimp croquettes are served as light crunchy snacks in Belgian seafood restaurants.
5. Prunes and Rabbit
This is a very unique Belgian dish which came into the mainstream in the last few decades. Instead of cooking conventional rabbit meat, these days it is served with prunes for sweetness. Red wine and dried plum enhance the taste of this dish. Furthermore, some restaurants also serve shrimp croquettes as an add-on. In short, rabbit with prunes is one of the most authentic Belgian dishes that every non-veg food lover must try.
6. Stoverij 
Stoverij or Carbonnade is another flemish stew. Its ingredients include beer, thyme, onions, bay, and pork/beef. Instead of cooking it with wine, Belgians cook it with beer which results in a sour flavor. Generally, stoverij is served with frites as a dip. You might confuse this with the French beef bourguignon, but it is different in terms of taste and ingredients. Some chefs also add vinegar and brown sugar if you want to exemplify the sourness. 
7. Stoemp
Stoemp is also known as Belgian mashed potato. This is a very famous dish served in the majority of hotels in Brussels. Stoemp is an exception to this predominantly meat-based cuisine. Stoemp is made from pureed potatoes, vegetables (spinach, nutmeg, bay, cabbage, carrots etc.), onions, and cheese. Moreover, you can add slices of bacon. This is a quick comfort food that is prevalent in Belgian households. You must try this if you want to taste a hardcore Belgian dish.
8. Meatballs 
This list would be incomplete without mentioning 'Boulets à la Liégeoise' or Belgian Meatballs. Served with tomato sauce and fried with Belgian cherry sauce, this is one of the tastiest dishes of this cuisine. These meatballs are a mixture of pork and beef and are served with a thick fruit syrup known as sirop de Liège. This is a sweet dish, which is countered by salad garnish, roast potatoes or frites.
Belgian cuisine is undoubtedly a delight to the taste buds. You must definitely try these dishes to understand the local culture while expanding your taste horizons. This cuisine is a blessing for meat lovers. The next time you visit Belgium, consider these dishes in your meal.