How to survive in Thailand for 15$/ daily
(Bonus Tips Included)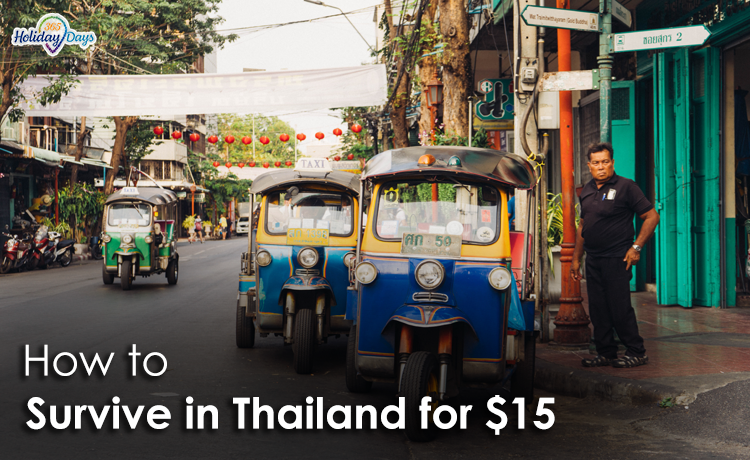 Increasing inflation is affecting traveling badly. Being passionate about visiting places, everyone needs help managing their budget.
Living in Thailand is so exciting. With a little job, it takes a lot of work to manage. But you can enjoy a tropical climate for pennies on the dollar all year round.
35% of the population accounted for middle-class families in Thailand. 55% of Thailand people are economically secure. They are surviving within 15 to 20$ in Thailand.
Living in Thailand and worried about how you can survive in Thailand for 15$ per day in this inflation?
No worries! You can survive within 15$ per day. You need to get deep into this article and follow things wisely.
How can you spend 15$ wisely?
The first thing is to spend whatever you have in your pocket wisely. Otherwise, it will become hard for you to survive in these inflated conditions.
Reduce your spending on costly gym memberships. The best gift you can give your body is the oxygen you get in the morning.
Stay away from expensive apartments. Reduce your purchases to the essentials and go minimalist. In a hostel, a shared room costs about $6. Rooms and limousines can be rented for many times that amount.
If you buy food from a hawker, your daily cost will start at 90 baht, or about $3. You can give yourself one coffee per day, which is around 1$. It will keep you refreshed.
Even if you have to buy a router, negotiate the rent so you can access their internet, as nearly every house has it.
Live at a place where you can utilize public transportation as opposed to possessing a vehicle. It will cost you around 1.5$. A vehicle is substantially more costly.
Bonus tips to survive
Suppose you are just travelling to Thailand for a long stay or moving out there. Keep these bonus tips from my side.
Pay your bills on time.
Turn off all electronic devices before you leave.
Before purchasing, think about that do you need it. What if you don't buy this and put the money away for something else?
You should not smoke. Do not drink alcohol. Stop gambling.
Things to avoid while surviving in 15$
Never take a personal loan from a payday lender or financial institution. They are there to exploit your financial requirements.
Avoid purchasing new clothing each season. Consider the question, "Are my clothes dirty or worn out?" If not, why not set aside some cash?
Don't constantly change your smartphone! I can assure you that these brands are designed to defraud you of your hard-earned money.
Every day, walk, jog, exercise, and run for 30 to 1 hour. You'll save money on visits to the doctor for your body.
Final words
It's not as hard as you think to survive within 15 $ per day. You may sometimes feel constrained, but remember that many people cannot do this and are content to live at home and deal with the same old things.
You don't need to waste money. Just spend it wisely and in a way that gives you the level of comfort you want. So get ready to have a successful survival in Thailand!